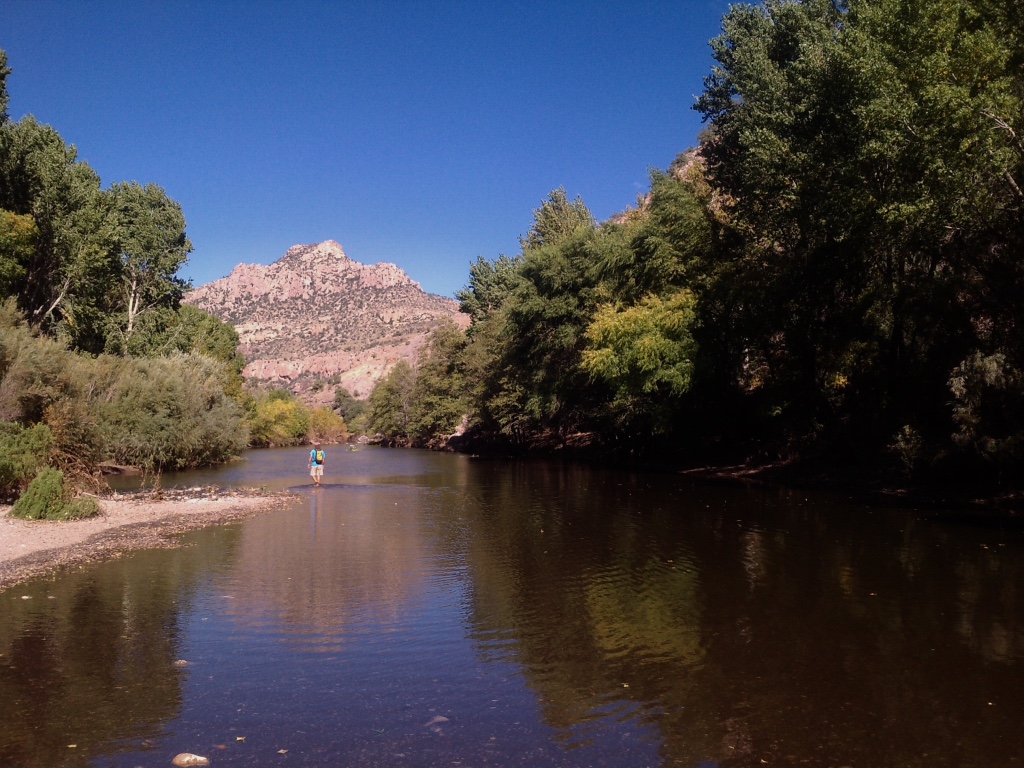 Link to StoryMap: https://wildgilariver.org/wild-and-scenic-storymap/
Silver City, N.M. (August, 10, 2020) –  The Wild Gila River Coalition today released a StoryMap to help visually explore some of the river segments that would be preserved for future generations by legislation introduced by New Mexico Senators Tom Udall and Martin Heinrich.
The StoryMap takes viewers to the center of the proposal, the Gila Wilderness, which was an inspiration for one of our country's bedrock conservation laws, the Wilderness Act of 1964. From there, the map identifies rivers as "wild," "scenic," and "recreational," while meandering through the mountains and canyons of this iconic Southwestern landscape, introducing the viewer to places like the Mogollon Box and the Lower San Francisco River Canyon. 

"Being able to show people what this bill will conserve is critical," said Brad Schuster, member of the Gila/Rio Grande Trout Unlimited chapter. "I have been going to the Gila River for the last 19 years, and allowing people who are not able to come here now to explore through this interactive map is really special."
The StoryMap reads, "A community-led proposal has led to legislation being introduced that would protect more than 440 miles of these waterways as Wild and Scenic Rivers. The M.H. Dutch Salmon Greater Gila Wild and Scenic River Act will sustain the local, rural economies that depend upon time-tested traditions like grazing, ranching, and hunting and fishing, in addition to boosting the growing outdoor recreation economy."
Grant County Commissioner, Alicia Edwards, said "PTSD is a fact of life for more than 8 million Americans including the hundreds of thousands of US veterans that suffer from combat induced PTSD. Places of solitude are places of healing and strength and the free flowing Gila River is one of those very special places. We have a responsibility to ensure our wild places are protected and preserved. All of us need refuge from the violence of the world we live in."
At a time when New Mexicans are experiencing real economic hardships from the pandemic, designating these rivers and tributaries as Wild and Scenic will ensure local, rural economies that depend upon time-tested traditions like grazing, ranching, and hunting and fishing can continue.
Sam Aliban, Owner of Javalina Coffee House, said, "My business depends on the Gila and San Francisco Rivers and their tributaries running free. The COVID-19 pandemic has taught us how critical our protected lands and waters are to rural communities. Now is the time to create a lasting legacy for our state and protect the Wild Gila River."
A forever wild Gila River is of paramount importance for the state's people, wildlife, and economy. The Gila and San Francisco Rivers have been crucial to New Mexico's past and present, and this legislation protects its future. Given the few legislative days left in this Congress, New Mexicans are now calling for the Senate to move this legislation, and for it to become law.
###
The Wild Gila River coalition is dedicated to preserving portions of the Gila and San Francisco Rivers and their tributaries as Wild and Scenic for the benefit and enjoyment of current and future generations. The coalition includes Tribes, sportsmen and women, veterans, small business owners, faith and civic organizations, local municipalities and governments, and outdoor recreation and conservation organizations. https://wildgilariver.org/